Page
Tips for Using BigBlueButton
Browsers
These are the four best browsers for using BBB. Firefox is not on the list because it is more difficult to do screen sharing compared to the ones listed. Make sure you have updated to the newest version.
Chrome
Brave
Opera
Safari (Some problems with screen sharing and sound.)
Screen Sharing
Don't panic the first time you try screen sharing and you get the tunnel to infinity of the main BBB window. You need to select a different browser tab/window or the screen of the application you would like to share.
Sound Problems
Are you using a USB headset? Try to unplug and plug in again.
Do you see a white circle under your name like in the screenshot below? Leave the room and enter again. Make sure to wait for your browser to refresh and make sure you click on the microphone icon.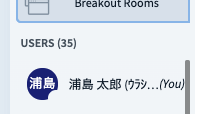 You can also try clicking on the telephone handset icon circled in red in the screenshot below.

If a participant's sound is choppy and seems to cut in and out, tell them they need to turn up the volume on their audio. This is especially true if they are not using a headset with a microphone.
General Points
Using ethernet is better than wifi

Only have open the applications and documents that you need.

Close any unnecessary tabs in Chrome.

If you have had Chrome open for a long time before you start using BBB, you should quit Chrome start again.

Mac users might find this article useful (https://www.macworld.com/article/3572431/how-to-use-keynote-play-slideshow-in-window-with-videoconferencing-services.html)

When exporting PowerPoint and Keynote presentations to pdf make sure to use the lower resolution. If you have too many slides at high resolution, BBB won't accept the pdf.

Last modified: Monday, 31 August 2020, 2:33 PM